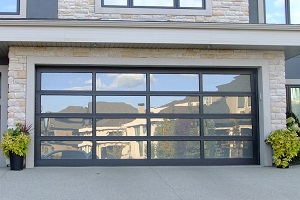 Choosing a Garage Door Type
Building a new house or just looking to change the curb appeal of your home? Your garage door will be an important part of the project and we want to make it easy for you to pick the right type. We've compiled a quick overview of the material types of doors available and the benefits of each – specific to our Albertan weather.
Material won't be your only decision when it comes to your new door. You'll also want to consider the style, color, and any finishing details. Find out just what each style of door looks like so you will be able to find the perfect match for years to come.
Garage Door Materials
When choosing a material, there's lots to think about: durability, maintenance, design, cost. Read below to find the best option for your budget and style.
Wood
Wood doors offer a great option for your garage door – they are more durable than steel or aluminum as they will not dent the same way. Additionally, the ability to get your door in a variety of woods and stains means matching to your home colors will be a breeze while maintaining a great natural ascetic to your home.
The traditionalist's choice; a range of options for custom design
Veneers or overlays offer the look of wood at a lower cost
Something to consider with wood doors is that they do requires regular maintenance (painting or staining) for them to continue to look great and resist the harsh effect of our weather.
Aluminum
A great choice for those looking for a maintenance free option. While no garage door is ever truly maintenance free, aluminum provides a door that won't rust, doesn't need re-finishing like wood, and can have sections replaced in case of an accident.
Many styles, stock colours and designs
Low to no maintenance
Rustproof, which makes it a good choice for salty or humid environments
The light weight of the material makes it less taxing on the operating mechanism, door openers and tracks, not to mention easier to operate manually
Less durable than steel; dents easily
Fiberglass
Fiberglass garage doors represent a small segment of the market. The panels, which are encased in aluminum frames, can be painted and offer greater resistance to dents than thin steel.
Fiberglass is very light, a poor insulator, and can fade from weather exposure. But it is more resistant to salt-water corrosion than other garage door materials, which makes it a good choice for coastal locations.
Wide choice of styles and designs
More durable than wood and metal, but can crack if hit hard
Newer to the market so not as widely available as wood and metal
Generally costs more than metal but less than solid wood
Steel
Steel is the most popular material for garage doors, and for good reason. Steel doors are reasonably priced, durable, low maintenance and available in just about any style you like. Steel can be painted, and it is available in textures that mimic wood.
Astonishing variety of styles, stock colours and finishes
Sturdier than aluminum
Can rust if scratched or dented
When shopping for a steel garage door, two features are particularly worth giving some thought to. First, steel is a poor insulator, so insulated doors are a smart choice for saving energy (and reducing noise).
Second, garage doors have steel panels that vary in thickness. Low-cost doors have thin panels of 27- or 28-gauge steel. Though inexpensive and suitable for many garages, these doors will not stand up well to impact (from basketballs, for example).
Garage Door Styles
Wondering what style will fit the home of your dreams? We've broken door styles into 4 different categories for your ease. Read about the look of each so you'll know what to ask for when we discuss the perfect door for your needs.
Victorian, Georgian orColonial
Panelled wood (or lookalikes)
Coach house or stable look
Divided-light windows, ideally coordinated with house windows
Decorative hardware, like iron hinges or handles
Edwardian or "Arts & Crafts" Style
Raised panels or sections
Arch-top or divided-light windows to match or complement your home's windows (but nothing too fussy looking)
1950s Ranch Style
Plain finish with simple, horizontal emphasis in design, like wood slats or banding
Simple hardware or windows that create balance with overall composition of home's exterior
For a streamlined look, consider forgoing handles
Contemporary or Modern
This style offers the most design freedom – choose materials and details that make a statement
Options to consider: stained wood, V-ribbed or horizontal banding, frosted or pebbled glass
Still wondering what door is right for you? Browse through our suppliers online catalogs or give Jackson & James Overhead Door a call to discuss how we can help you with your project.
https://jacksonandjames.com/wp-content/uploads/2013/09/Glass-door.jpg
200
300
nate@boost2business.ca
https://jacksonandjames.com/wp-content/uploads/2019/02/jackson-and-james-logo.png
nate@boost2business.ca
2013-10-02 23:33:21
2018-09-19 12:16:25
Choosing a Garage Door Type